10 Steps to Set Up a Successful and Sustainable PMO – Part III
Tobias Drugowitsch, PMCC Consulting GmbH and Gerald Aquila, ONEPOINT Projects GmbH
The Project Management Institute (PMI)® defines a Project Management Office (PMO) as "an organizational structure that may be used to standardize the portfolio, program, or project-related governance processes and facilitate the sharing of resources, methodologies, tools, and techniques."
In other words, a PMO defines and maintains the project management rules and guidelines, trains and supports your project managers, and is usually responsible for implementing a PPM software solution to support everyday project work as well as portfolio reporting.
Setting up a successful and sustainable PMO is a significant challenge but provides excellent benefits if implemented correctly.
We developed the following ten steps to help you set up a PMO that fits your organization's needs, aligns with your business goals, and is designed to outlast major organizational changes. So, let's get started!
Tip 8: Maintain Motivation
The implementation of any significant organizational change can be rocky. There are likely to be periods when things seem to be happening slowly or not at all. During these times, it is vital to remain positive and focus on keeping stakeholders engaged and committed to the end-goal. Note that the relevant stakeholders for traditional and agile projects can differ and so the information needs might differ as well.
PPM tools can support this by offering usage statistics and/or usage-based KPIs that indicate how intensively users are using the tool and if the data is up to date. Software-supported status reporting can provide a significant benefit here. It ensures that all project managers have to file status reports periodically (usually once per month). If the frequency and actuality of these status reports are, in turn, tracked via KPIs, you have got an excellent indicator for both usage and project status data quality.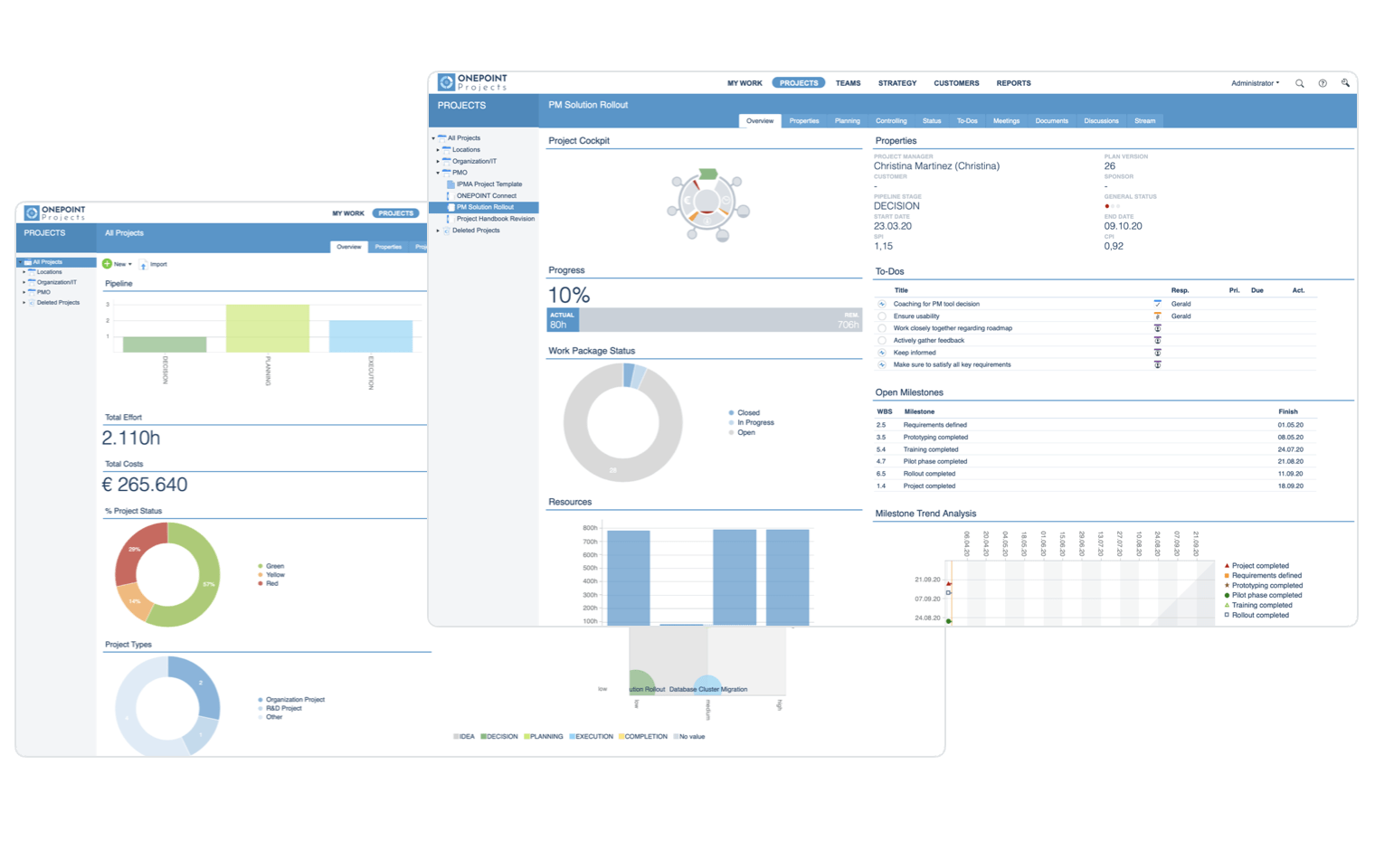 Fast access to information: project and portfolio dashboards
Tip 9: Keep It Flexible and Adaptive
As the business grows and changes, the PMO needs to be able to adapt. For example, the PMO may start as a Supportive PMO but morph into a Directive PMO over time. The same is true for your types of projects – even if you initially only have traditional projects, your PMO should be flexible enough to cover agile projects as well in the future.
The staff for your PMO can support this change in its organization and is openly minded towards being an active part of these changes in the future. This could, e.g., be a quarterly workshop researching and evaluating "new" methods or "modern" ideas that might bring a benefit to your organization. Some ideas that are not new but interesting could be, for instance:
Hybrid project management
Business Model Canvas
Design Thinking
Kanban
Lean management
Safe® – scaled agile framework
…
The PPM tool you choose should be flexible, too. It should adapt to your needs and be extensible. You want a tool that you can configure yourself and adjust to your current needs whenever necessary. You do not want to bring in external consultants to implement simple changes. This is especially true for the reporting framework: the PPM solution should support adaptive built-in reporting possibilities and should ideally be accessible via 3rd party reporting tools (business intelligence solutions).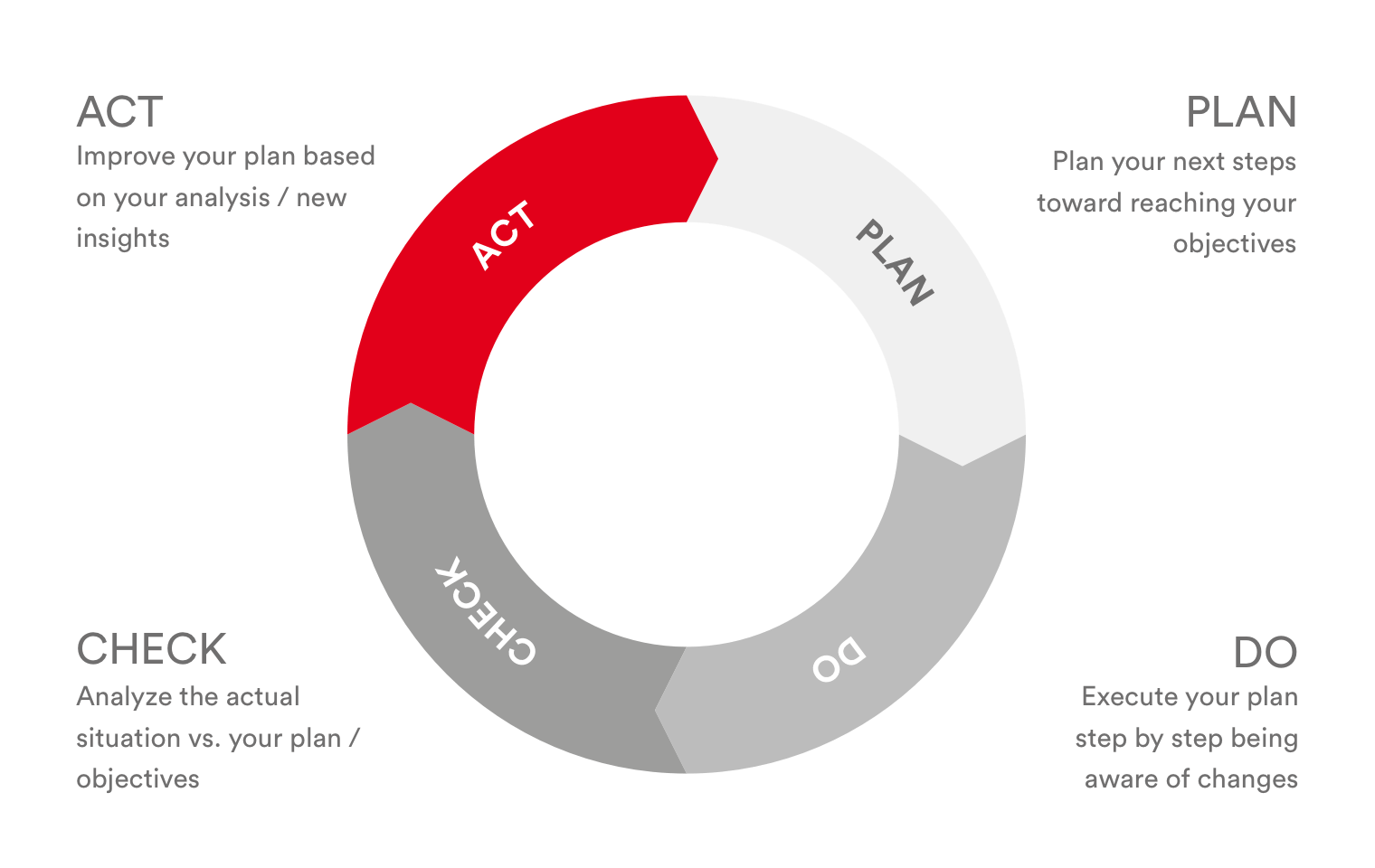 The comeback of the venerable PDCA cycle
Tip 10: Make it a Project
Finally, setting up a new organizational unit (your new PMO) in a company or NGO is worth being a project on its own.
This project should find alignment to the governance, structure, and processes of the whole organization and fit into the strategy to justify the implementation of a PMO. It is crucial to secure organizational buy-in before starting the realization effort. To ensure the later success move your key-stakeholders into focus – both your internal supporters as well as your opponents: "Keep your friends close, keep your enemies closer!"
Develop a temporary project organization. Support this team with key players out of different line-organizations/departments that are later dealing with this project's result. The roles project sponsor, manager, core-team members are mandatory
Define the boundary definition for traditional and agile projects
Develop a draft budget overview. Not only the needed resources but also the financial aspects should be part of your considerations
Display a realistic end date for the result and/or define some rough milestones (highlights and dates) for the roadmap
Note that this can seem like a "chicken-egg" situation, as your project management processes are naturally not in place yet. But running the PMO setup like a project will help you validate your early decisions and keep your efforts on track and organized. This could be the situation to ask for support/coaching to get the best practice experiences from qualified project managers.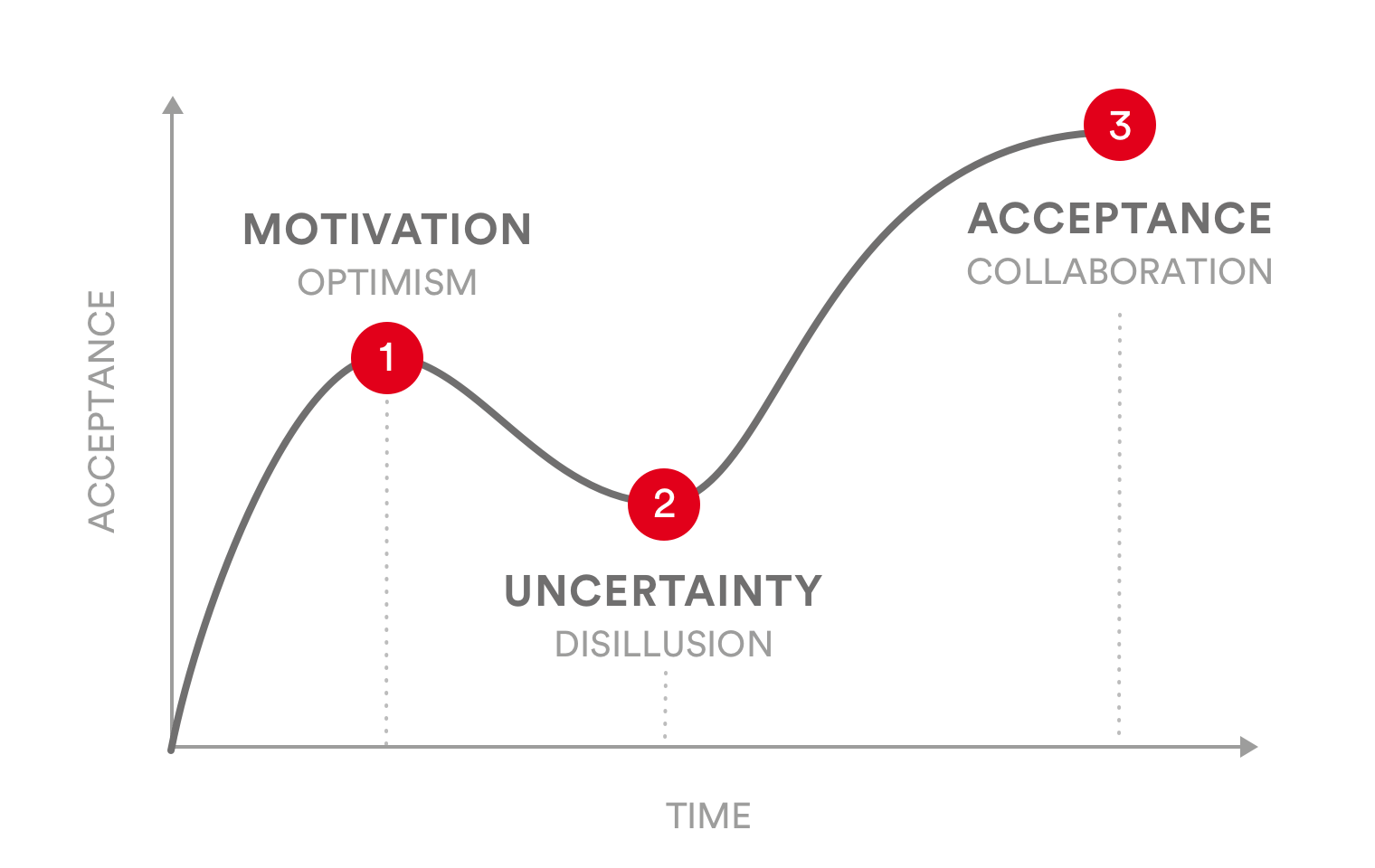 A typical hype cycle of a PMO introduction project
Summary & Conclusion
We hope we could give you a few useful tips, or at least some food for thought on how to set up your new PMO. Now it is up to you to take the next step!
PMI und A Guide to the Project Management Body of Knowledge, (PMBOK® Guide) – Sixth Edition, Project Management Institute, Inc., 2017 sind registrierte Warenzeichen des Project Management Institute, Inc.
Alles schön und gut …
… aber Sie benötigen jetzt Unterstützung?
Sie wollen Ihre Projekte effizienter machen und damit Geld und Zeit sparen?
Sie wollen Ihre Projekte künftig agil und leichtfüßig managen?
Sie wollen Ihre Projekte, die Innovationskraft und die Kreativität vorantreiben?
Sie wollen Ihre laufenden Projekte effizient steuern und strategisch wichtige Portfolio-Entscheidungen treffen können?
Ihr PMO benötigt Starthilfe oder soll wieder auf Vordermann gebracht werden?
Mit unserem
PMCC PMO Check-up
haben wir für (fast) jedes Problem und sicher
für Ihre konkrete Herausforderung
die richtige Lösung!